Marcel "SEL" Blanco
Marcel is one of LA's top emerging artists. With roots in graffiti art his work presents you with a balance between the rugged and delicate by using urban imagery and elements of nature against a backdrop of layered tags, streaks and drips. His paintings have shown and sold alongside the works of Banksy, Shepard Fairy and other street art / graffiti icons and was also selected for the J. Paul Getty Museum's Blackbook project, (Liber Amicorum).
Richard Abagon
Richard's photos offer an alternate perspective of everyday locations composing an evocative look at the city around us. Freeway underpasses, piers and urban textures exude a haunting tranquility and Richard presents a different take on the mundane. As a West LA native with a love for urban arts, Richard Abagon's early background in graffiti art has lead to his inclusion in the J. Paul Getty Museum's Blackbook project, (Liber Amicorum).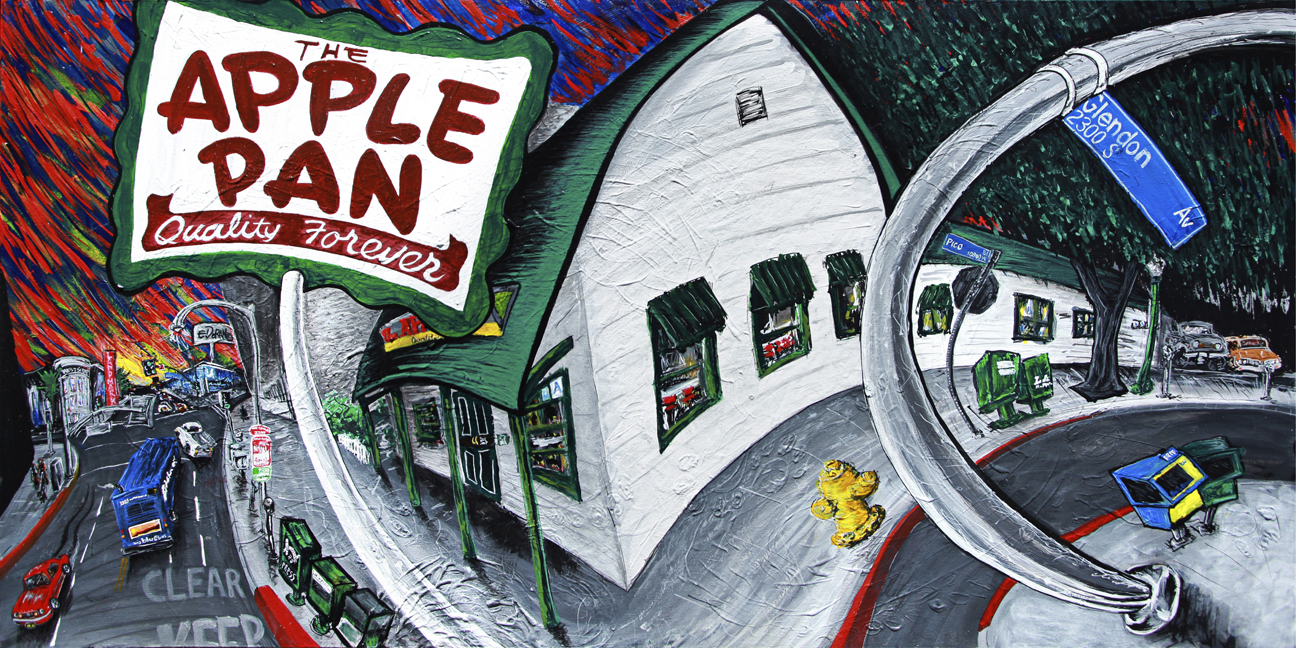 Edward Michael Doran
Edward Michael Doran's paintings of West Los Angeles street scenes depicts his childhood hang-outs, local eateries and west side landmarks of the past. His work conveys a whimsical perspective using vivid colors and warped angles that carry your eye throughout his compositions. His work was featured on the hit reality TV show, Dr. 90210 on the E! Channel and his paintings continue to attract attention in the local art community.
Daniel Kaufman
"The empathic potential of color allows me to express the microcosm of flowers and the macrocosm of astral imagery, emerging constellations and stellar pulsations. Color empowers me to create, in the words of the great painter Richard Pousette-Dart, "the cosmos for man", which I believe is the role of the artist. This all-encompassing energy that permeates nature, the universe and the cosmos is the essence of my art." - Daniel
Chris Justice
"Overwhelming yet liberating, inspiration is something that I live firsthand; therefore, it is what I am. If I had to pinpoint the direct source of inspiration for my work it would be my relationship with people. My life (not only as an artist) but as a human being is based around the relationships that are kept and unfortunately sometimes broken. People are the most fascinating entities in the world and I process my experience with such entities through color. Like people, colors are equally as fascinating and can evoke stories of their own, especially in the world of abstraction. My work is also highly inspired by places, near and far." -Chris
Kimball Hall
"Making art is a very personal and spontaneous act for me. All I know is that I have to do it. I'm compelled to make things and I can't alway's explain the reasons of take full credit for the results. I believe that the creative spirit comes from a greater source and I trust this unapologetically. I believe that from a drunken napkin sketch to a perfectly executed photograph, nothing produced in truth is absent of that higher artistic influence." -Kimball
Howie's Art
Howie discovered his passion for art when he stumbled into a small art store while wandering through europe. He bought his first set of color pencils and an art pad and has been drawing and painting ever since. Following the cues from architecture and nature, Spunt uses color theory, balance and proportion to guide him. He primarily works in acrylic paint, canvas and wood. His art is influenced by the Bauhaus-Blue rider era, and Structural expressionism.
Ariel Gold
Ariel Gold is a Detroit-born, San Francisco- based artist who's love for color and organic texture bring life to her work. The subtleties in each piece change based on the angle and direction in which it's seen while the color evokes a sense of being as it moves and blends together. each piece is as individual as the viewer.